Page Layout Options
Main Content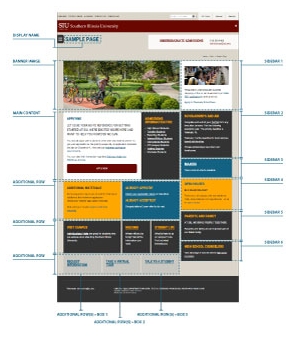 Page Layout Options
The Main Content area and Additional Rows area are very customizable and optional. Each section is divided up into rows and boxes. Each row contains one or more boxes, able to be positioned in a number of configurations. This allows you to create a different layout for different pages, as well as enabling you to bring focus to the most important sections of your site. If you do not wish to use these features your other content will fill the space. 
Main Content Area
The Main Content area holds the main content of a web page, and is the first row on your site. You have three options for the Main Content row: one box spanning the whole row, two boxes spanning 66% and 33% of the row, or two boxes of equal size spanning the entire row.
Main Content Area Options

The image above depicts the options for row and column layout for the main content area. The first box has a white background color and the second box has the option of a white or dark gray background color.
Additional Features
You can add specially-formatted elements to your first main content box. Included are accordion panels, a button link, a photo gallery, tabbed panels, a table, or a YouTube video. You may add only one of these options to each page's main content area.
Additional Rows
You can have a maximum of 3 additional rows appear beneath the main content row. These are completely optional and will not display if no content is entered. There are more options for box configuration in the additional rows than in the main content row. For each additional row, here are the layout and size options available:
1 Box
2 Boxes (75% | 25%)
2 Boxes (66% | 33%)
2 Boxes (33% | 66%)
2 Boxes (50% | 50%)
3 Boxes (50% | 25% | 25%)
3 Boxes (33% | 33% | 33%)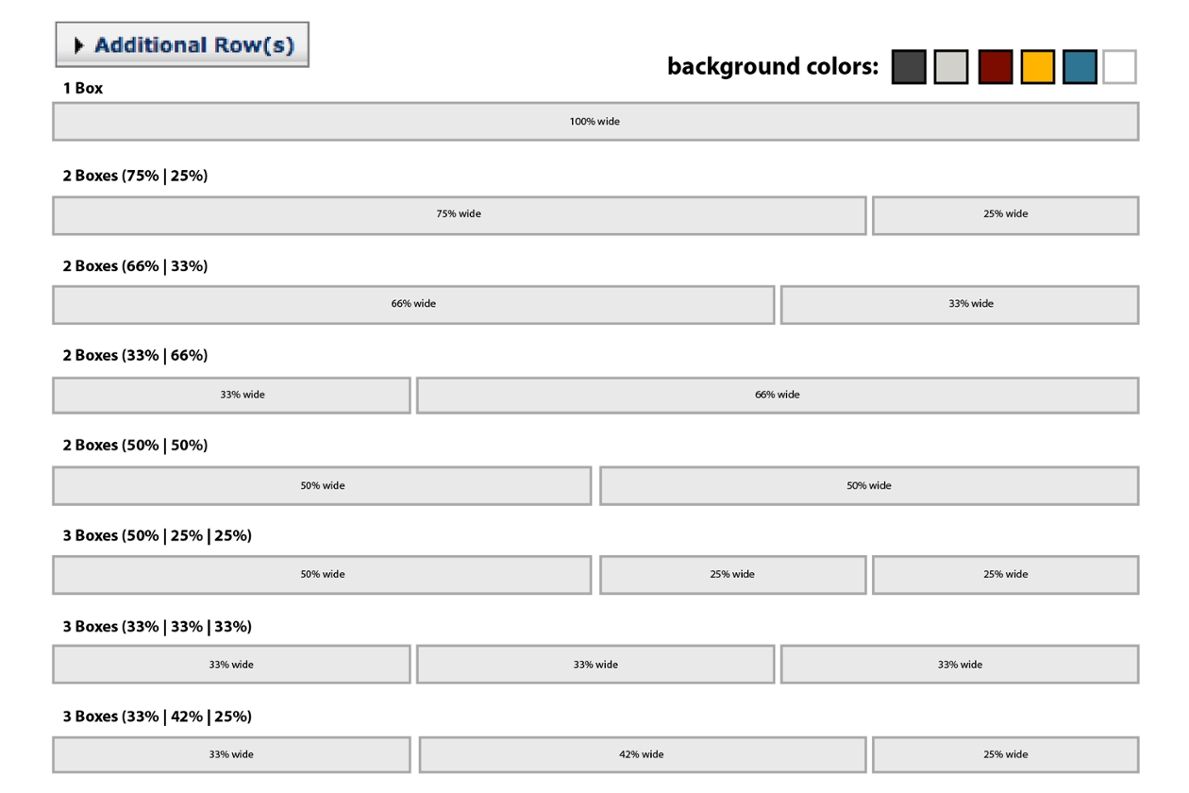 The image above depicts the options for row and column layout for the additional rows. There are several box width choices (listed above), and each box has the optional background color of dark gray, light gray, maroon, yellow, blue, or white.
Right Sidebar
The right sidebar has optional areas. You are allowed to put up to 6 sidebar boxes to the right of any page. If no content is entered for those areas the right sidebar will not appear. These optional areas can contain content specific to that page or can display content stored in a block. The colors of the boxes are determined by order (i.e. first box always white, second box always dark gray, etc.).